FORTHCOMING EVENTS

THE SOCIETY'S CALENDAR FOR 2021



Our programme has been thrown into confusion by the Covid-19 pandemic. The three 2020 auctions all took place online, with bids sent in by email, posted on the Members Area page and then progressively updated by overbids. This same procedure applies for the April 2021 auction. The 2020 AGM was moved to October and held on Zoom, which may remain the situation for the April 2021 AGM.
Much effort went into preparing for the International Exlibris Congress in London, planned for August 2020, but cancelled. See the Congress home page for a notice about this.
Our planned gathering in Edinburgh in June has now been deferred to 2022.


Look on the bright side with Noel Coward: There are bad times just around the corner (1952)

Saturday, 17 April 2021 at 1.30pm Auction 93 (will be run online)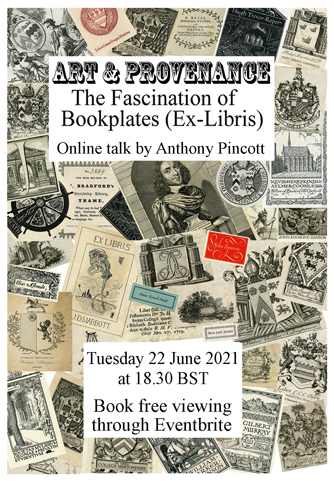 Tuesday 22 June 2021 at 6.30pm "Ex-Libris Art and Provenance - The Fascination of Bookplates" Fully illustrated talk by Anthony Pincott. This takes place online. Anyone (both members and non-members) may participate by booking a free ticket here.
We hope that many from outside the UK will be able to join in.

Saturday, 2 October 2021 Auction 94 and AGM (it is at present uncertain whether this can be a meeting in person)

Saturday, 4 December 2021 Auction 95

When physical meetings resume, our London venue is:
Lower Meeting Room, Wesley's Chapel, 49 City Road, London EC1Y 1AU.
This is located in the City of London, between Old Street (Northern Line) and Moorgate tube stations. We must leave the Wesley centre by 4.50pm. Click to see how to get there.



AUTUMN 2018 ISSUE OF THE BOOKPLATE JOURNAL
This journal is running very late and has not yet been issued to members. We have three editors working on this journal, on Spring 2019 and Autumn 2019, so there is hope of catching up the backlog eventually. With museums and libraries closed, it is impossible to get images that are needed for certain articles.




Simon Brett "THIRTY MORE YEARS" Bookplates 1990-2020
Published by The Reading Room Press, 190 copies set in Perpetua and printed on an Albion on Zerkall paper. Case-bound in quarter cloth with a patterned paper incorporating the plate deemed, by mutual accord, to be the best from these thirty more years. Of the sixty-eight bookplates cut by Simon Brett since 1990, thirty-four are reproduced, all but two printed from the wood. The trees and sailing ship pictorial for printer Miles Wigfield was an inevitable selection. The two previous books about Simon's ex-libris (Klaus Rodel, Frederikshavn, 1982 and Fleece Press 1989) were by the late Brian North Lee, that doyen of the genre. Here, at the instigation of the printer, the text is by the artist himself. Stop Press: A proof of plate no.150, Bryan Welch Et in Arcadia Ego, printed and signed by the artist, will be tipped in to the first 100 copies ordered. Orders to Dr Miles Wigfield, Coneygar Lodge, Quenington. Glos. GL7 5BZ (T: 01285 750662 E: miles.wigfield AT btopenworld.com ).




NEWS AND EVENTS ARCHIVE
Out of date reports and some obituary notices are now on a separate webpage.