SUPPLIES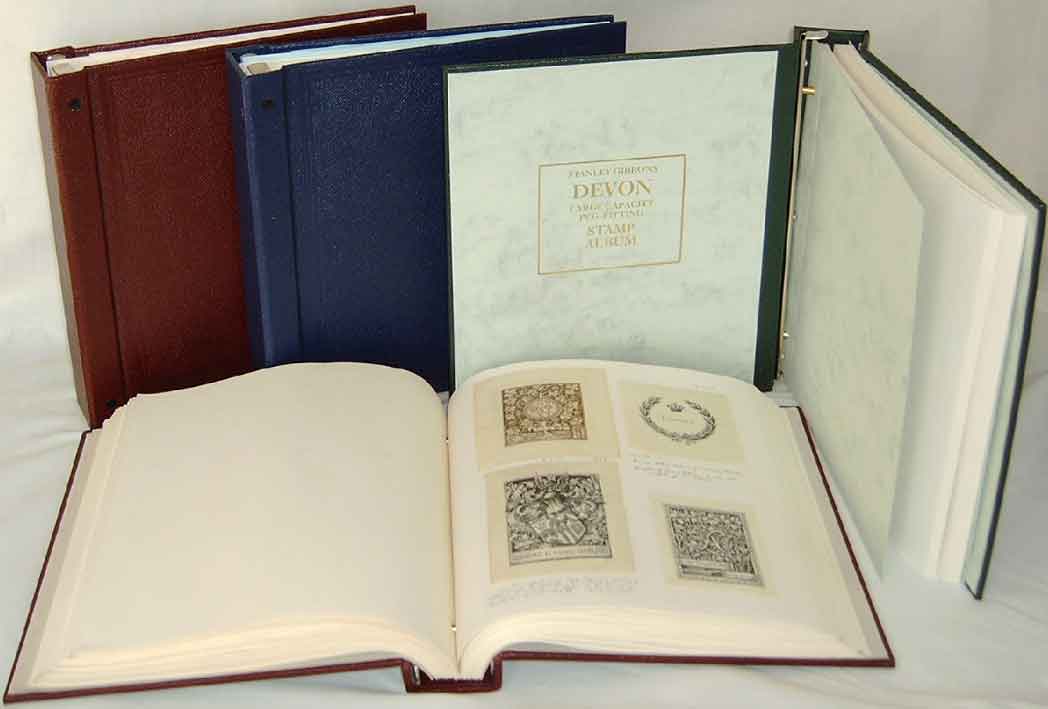 A number of collectors mount bookplates in Stanley Gibbons "Devon" loose-leaf binders. These albums were available in maroon, dark blue and dark green (the original black version having been discontinued). To our great dismay, Stanley Gibbons has now stopped selling these. An album with 50 sheets of squared paper used to cost about £36 and packs of 50 extra leaves sold for £10. It may still be possible to find albums and paper - please write to the membership secretary (see Contact Us page).

The microfilm (10 reels) of the British Museum's Franks Collection of 36,000 British and American bookplates was in the past (but no longer) available from Mr Felix Moore, Mindata Ltd, Bathwick Hill, BATH BA2 6LA Tel: +44 1225 466447. We may sometimes be able to find this scarce microfilm from members who have retired from collecting.Other microfilms once produced by Mindata include the Banks Collection of Trade Cards(6,000 images; 19 reels) and the Sir Ambrose Heal Collection of Trade Cards (16,000 images; 27 reels).

Boxwood and lemonwood blocks for engravers are made by Society of Wood Engravers member Chris Daunt, 1 Monkridge Gardens, Dunston, Gateshead NE11 9XE Tel: +44 (0)191 420 8975 Email: chrisdaunt4@yahoo.co.uk Website: www.chrisdaunt.com
After several generations of manufacturing engravers' blocks, T N Lawrence & Son Ltd now only sells artists' supplies, from 208 Portland Road, Hove BN3 5QT Tel: +44 1273 260260 Email: artbox@lawrence.co.uk Website: http://www.lawrence.co.uk (look at the foot of the webpage to links to an interesting history of the firm which for many years had premises in Bleeding Heart Yard, London (near Hatton Garden).

Dealers who issue catalogues or sell exlibris online (mainly of Continental European bookplates) include:


Bert Groeneveld, Gooszenhof 12, 7415CZ Deventer, The Netherlands Tel: +31 6 20964297 Email: bg.deventerATgmail.com Website: ELG.nl


Hans Manche, Soestdijkseweg Zuid 213, NL-3721AC, Bilthoven, The Netherlands Tel: +31-3020900 Email: hansmancheATgmail.com Website:Hans Manche


Margo Mulholland-WittalFliednerstrasse 27, 65191 Wiesbaden, Germany Tel: +49 611 502907 Email: margoAntiquesAToutlook.com Website: ebay seller store

Niels Witte, Nürburgstr. 68, D- 53945 Blankenheim, Germany Tel (also Fax): + 49 2449 919654 Email: nwitteATgmx.net
We are sad to have lost Claus Wittal of Wiesbaden, who died of cancer on 18.9.2012, aged only 57. His wife Margo continues the business (see above). Another German dealer, Ernst Deeken of Altenlotheim, is also no longer with us.

Some suppliers of standard bookplate designs, on which your name can be printed, are:
Bookplate Ink, run by Karen Gardner (kgardner@bookplateink.com Tel: +1.866.483.3830) also offer printing of custom designs. Most designs were acquired in the 1980s from Antioch.
Dan DeFrance's www.bookplates.com
Colorful Images
Antioch Publishing Mass-produced bookplates (unpersonalized) for retail sale, primarily.
No longer prints bookplates with the customer's name included.






LINKS

A. Bookplate Societies
FISAE - the International Federation of Ex-libris Societies
Details are given here of all the member societies and their websites; also information
on the 2016 International Ex-Libris Congress at Vologda, an illustrated history of past
Congresses, plus much other information and many links to bookplate-related websites.
The American Society of Bookplate Collectors and Designers
Bookplate Societies and sites as listed in the Cyber Journal of Heraldic Bookplates

B. Some Interesting Web Articles
Microscopical Bookplates
Some Literary Bookplates
(12 pages; the Sheridan plate pictured is not the playwright's)
Ezekiel Abraham Ezekiel, engraver of Exeter, born 1757 died 1805
David Steuart, 18th century Lord Provost of Edinburgh and Bibliophile, born 1747 died 1824
The Renaissance of Copper-Engraved Bookplates in Britain, by B N Lee
Sir Ilay Campbell's St Andrew Lecture on Scottish Heraldic Bookplates
Gentlemen and their Bookplates by B N Lee
Parker Library Corpus Christi Cambridge Bookplate Cataloguing Project
The WE Baillie Collection of Bookplates, Metropolitan Museum of Art


C. Links to Kindred Societies and Publications
The Heraldry Society
The Heraldry Society of Scotland
City of Bath Heraldic Society
The Armorial Register
The Society of Genealogists
The Private Libraries Association
Historic Libraries Forum
The Ephemera Society
The Ephemera Society of America
The World of Bookmarks
The Society of Wood Engravers
The Edward Johnstone Society (calligraphy)
Print Quarterly
Printing Historical Society
The Bibliographical Society (publishes The Library)
Imaginative Book Illustration Society
The Alcuin Society, Canada (for lovers of books, the book arts, fine printing, and reading)
The Society of Heraldic Arts (see useful list of heraldic artists)


D. Links to Bookplate Society Members' Sites
Richard Shirley Smith
The Incline Press
The Primrose Hill Press Ltd
Ex Libris Museum
Miniature Print Exhibition of The Off-Centre Gallery
JJ Heath-Caldwell's family history site displays bookplates and biographies
An extensive, illustrated article by Brian J Birch on philatelic bookplates
Lew Jaffé's blog spot - images and descriptions of exlibris of interest
and for an interview with Lew Jaffe click here
Twelve bookplates by Paul Revere
JV Arnoso's (= de Bragança's) blog spot - images and descriptions of bookplates of interest
David Pearson;a's updated list of 17th century book owners
Book Owners Online
Jason Burgoin illustrates modern ex-libris by Macpherson and others


E. Sites exhibiting Bookplates
Tim Powys-Lybbe
Work by Gordon Macpherson, Niagara Herald Extraordinary
Graphic designer Ries Hoek's comments on the Nyon Congress
Huang Wuchangé's blog spot - images, plus text in Chinese
The Collectors Weekly - deals with antique bookplates and has links to items offered on eBay
Dr Bernhard Peter of Koblenz illustrates heraldry in British, German, French and other exlibris.
Peter Harling displays work by designers of heraldic ex-libris


F. Institutional Collections
American Antiquarian Society
University of Delaware Library - Rev WA Brewer
Brewer Index
Brewer bookplates on screen
National Library of Scotland - J Henderson Smith
John Rylands Library - GH Viner (part), Lord De Tabley
International Exlibris Centre at Sint Niklaas, Belgium - huge holdings, frequent meetings & exhibitions


G. Useful Websites for Bookplate and Biographical Research
Catalogue of British Museum Franks Bookplate Collection Vol.1 A-G
Catalogue of British Museum Franks Bookplate Collection - Vol.2 H-R
Catalogue of British Museum Franks Bookplate Collection - Vol.3 S-Z and heraldic index
Franks Collection duplicates were sold by Ellis, whose catalogue prices are of interest
Here are links to viewing online the whole of the Ex Libris Journal:
v.1-2 1891-1892
v.3-4 1893-1894
v.5-6 1895-1896
v.7-8 1897-1898
v.9-10 1899-1900
v.11-12 1901-1902
INDEX to first 12 volumes (at end of next volume below)
v.13-14 1903-1904
v.15-16 1905-1906
v.17-18 1907-1908

Artists and Engravers of British and American Book-Plates, by H.W. Fincham, 1897
Dated Book-Plates, by Walter Hamilton, 1895
Die deutschen Bücherzeichen (ex-libris): von ihrem Ursprunge bis zur Gegenwart, by Friedrich Warnecke, 1890
Welsh Bookplates in the Collection of Sir Evan Davies Jones, by H.M. Vaughan, 1920
[There is a supplement, but not yet available online].
A sketch of the life and work of Charles William Sherborn, painter-etcher, by Charles Davies Sherborn and G H Viner, 1912
A Descriptive Catalogue of the Bookplates Designed and Etched by George W[illiam] Eve RE (1855-1914)
Edwin Davis French (1851-1906) A Memorial His Life His Art, by Mary Brainerd French, 1908
West Indian Bookplates by Vere Langford Oliver, 1914
Birth Marriages Deaths Registers for England and Wales, 1837-1983 (but not all transcribed yet)
International Genealogical Index
Oxford Dictionary of National Biography (For access, enter your UK public library card number)
National Archives for General Search
National Archives for PCC Wills in England and Wales up to 1858
Find a Will in England and Wales 1859 to present
Foster's Alumni Oxonienses Early Series (1500-1714) Vol.1 A-D
Foster's Alumni Oxonienses Early Series (1500-1714) Vol.2 E-K
Foster's Alumni Oxonienses Early Series (1500-1714) Vol.3 L-R
Foster's Alumni Oxonienses Early Series (1500-1714) Vol.4 S-Z
Foster's Alumni Oxonienses Later Series (1715-1886) Vol.1 A-D
Foster's Alumni Oxonienses Later Series (1715-1886) Vol.2 E-K
Foster's Alumni Oxonienses Later Series (1715-1886) Vol.3 L-R
Foster's Alumni Oxonienses Later Series (1715-1886) Vol.4 S-Z
Venn's Alumni Cantabrigienses
Foster ' s Register of Admissions to Gray 's Inn (1521-1889)
How to obtain records of admissions to Lincoln ' s Inn
The Records of the Honourable Society of Lincoln 's Inn (1420-1799) VOLUME 1
The Records of the Honourable Society of Lincoln 's Inn (1800-1893) VOLUME 2
The Records of the Honourable Society of Lincoln 's Inn (1894-1956) VOLUME 3
The Records of the Honourable Society of Lincoln 's Inn (1957-195673) VOLUME 4
Middle Temple Admissions Database
Inner Temple Admissions Database
British Book Trade Index
Scottish Book Trade Index
British Armorial Bindings Data, edited by Philip Oldfield
CERL (Consortium of European Research Libraries) Provenance Queries
General Armory, 1884, by Sir Bernard Burke
Ordinary of British Armorials, VOLUME 1, 1874, by Papworth and Morant
Ordinary of British Armorials, VOLUME 2, 1874, by Papworth and Morant
The Post Office London Directory, 1843
List of Catalogues of English Book Sales 1676-1900 now in the British Museum,1915


H. Bookplate Books and Articles Digitized and Available to View Online
Studio Winter Number, 1898/9, Modern Book-plate Designers, by Gleeson White
147 Examples, published by William Griggs, 1892
Book-Plates (2nd Edition), by WJ Hardy FSA, 1897
English Book-Plates (2nd Edition), by Egerton Castle, 1893
French Bookplates (2nd Edition) by Walter Hamilton, 1896
American Bookplates by Charles Dexter Allen, 1894
German Bookplates by Leiningen Westerburg, 1901
Ladies Bookplates by Norna Labouchere, 1895
Frederick Garrison Hall, Etchings, Bookplates, Designs by Elton Wayland Hall, Henry P. Rossiter; Boston Public Library, 1972.
Concerning Book-Plates, short essay by Theodore W. Koch, 1915.
Ex Libris Society - Catalogue of the Sixth Exhibition, 1897
A Booklet devoted to the Bookplates of Elisha Brown Bird, by Winfred Porter Truesdell, Village Press, New York, 1907.
Corrections and index to Ex Libris The Art of Bookplates by Martin Hopkinson, British Museum Press, 2011.
3500 Italian Exlibris, by Jacopo Gelli, 1908.
Notes on Book-Plates, classic article by John Paul Rylands, 1888.