International Exlibris Congress 2020
EVENT CANCELLED
GO TO THE COMPETITION PAGE FOR
THE REPORT OF THE JURY AND LINK TO THE ONLINE EXHIBITION

The rest of this page remains only as a record of what might have been.
The Bookplate Society is pleased to host visitors to London in August 2020
This page explains how to get to the hotel in London. Plan to visit the sights in London and take advantage of your trip to the UK by taking time to see other parts of the country, either before or after the congress.


Obtaining a Visa
If coming from outside the EU, you may be required to obtain a visa. Please look online to discover how to do this from your country. For visitors from China it is possible to arrange a group visa, but individual visas may allow greater flexibility in your travel plans. If you need a letter of invitation to the congress, please email the congress organisers, who will send this letter to you.


From Heathrow Airport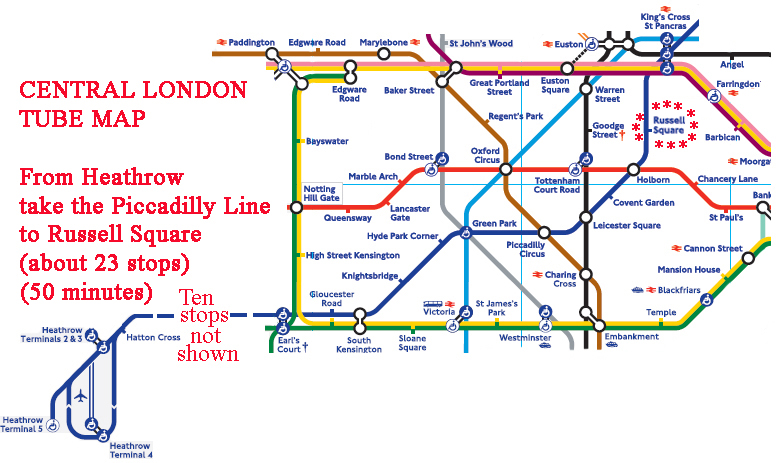 Obtain a Visitor Oyster Card (see below) and take the London Underground tube train (metro) service into Central London. This takes about 50 minutes to get to the Russell Square tube station, but the great advantage is that you are then 1 minute from the Royal National Hotel. The Heathrow Express may appear to be a quicker way to travel to and from Heathrow, but it is more expensive and you arrive at Paddington Station. It then takes time getting to Russell Square. So the tube is the simpler, cheaper option. To download the full tube map click here.


From Gatwick Airport
The Gatwick Express train brings you into London Victoria station. Then travel by tube (one stop on the Victoria Line to Green Park station, change to the Piccadilly Line and travel five stops to Russell Square.

Other Airports
Your travel plans may make it preferable to arrive at Stansted Airport, London City Airport or possibly one of various other airports (eg Luton, Birmingham or Manchester). Search online for the best way to travel into Central London.

Arriving by Train
Eurostar trains from Paris, Brussels and Rotterdam arrive at St Pancras station. From adjacent King's Cross station it is only one tube stop to Russell Square. Alternatively, you have a 12-15 minute walk. From within the UK, arriving by train at other London stations requires only a short journey on London Underground to get you to our hotel venue.

Arriving by Car
London is not "car-friendly". Drivers pay a daily Congestion Charge. This is an £11.50 daily charge for driving a vehicle within the charging zone between 7am and 6pm, Monday to Friday. There is now also a 24/7 charge on older cars (especially diesel vehicles) when entering the Ultra-Low Emission Zone ("ULEZ"). If applicable, the daily charge is £12.50 for most vehicle types.
Holders of UK and EU Blue Badges can apply for exemption, but you must register well in advance of coming to London.

Parking
This is a further nightmare. There are several websites which enable you to discover where best to park a vehicle. There is undergound parking below the Royal National Hotel, at a daily rate of £20 (but no discount for hotel guests).

Arriving at the Royal National Hotel
You will find the hotel's main reception desk at the south entrance in the courtyard. Register there and if it is after 2pm you can take your bags to your room (otherwise store your bags with the concierge). Then cross the courtyard to the north entrance for check-in at the congress reception desk.

How to travel on London Underground (the "tube")
Buy a Visitor Oyster Card for each person travelling (but children under 11 travel free when with an adult). You can do this online in advance and have the card mailed to your home. The initial cost to obtain this contactless card is £5, but you also need to buy a credit balance on the card. At the end of your stay in London, you can get a refund.