This part of our site is primarily for the benefit of members and may one day become a password-protected area. We considered making the Directory of Members available online, so that it would be up to date, but many members do not have access to the internet.
A Members Handbook dated January 2016 was sent to members with our Autumn 2015 journal.

MEMBERS AUCTIONS

Auction 97 was intended to take place as a meeting in person on 3 December 2022. Travel absences, illness and computer failure have all conspired to make this impossible. This auction has therefore been retimed to close on 21 January 2023. The liistng and images will appear here as soon as available. . Here is a taster of the first images (there are more coming soon):

Lots 1-14 Lots 15-34 Lots 35-46 Lots 47-59 Lots 60-66 Lots 67-74
Lots 75-85 Lots 86-104 Lots 105-122 Lots 123-138 Lots 139-152 Lots 153-166

The deadline for sending in bids is now 3pm on 21 January 2023.

Meeting in person on Saturday, 1 October 2022 was made impossible by a train strike, so we ran the auction entirely by post/email.
Click here for Results and Lots remaining available for sale (PDF).
Click here on Auction 96 List (PDF) for the listing and presale estimates. Links to the images are shown below. When viewing these images by computer, you may find it useful to hold down the Control key and at the same time press on the equals key to enlarge. To reduce, hold down the Control key and tap on the hyphen key. On a mousepad enlarge by drawing two fingers away from each other.

Lots 1-9 Lots 10-19 Lots 20-28 Lots 29-37 Lots 38-43 Lots 44-50
Lots 51-59 Lots 60-71 Lots 72-79 Lots 80-105 Lots 106-121
Lots 122-132 Lots 133-144 Lots145-150 Lots 151-156 Lots 157-170
Lots 171-188 Lots 189-208 Lots 209-222 Lot 218
Lots 223-232 Lots 233-259 Lots 260-289 Lots 290-331
Lots 332-375 Lots 376-401

Our Auctions Secretary is Peter McGowan, to whom all auction correspondence should please be sent (address on Contacts page).
DESIDERATA
We have opened a webpage giving a list of Wants by members. To get to this, go to the URL box at the top of this page and type Desiderata.htm in place of membersarea.htm
THE JOHN SIMPSON COLLECTION
A former member who died tragically in 2004, John Simpson was an assiduous collector not only of books on fishing but also of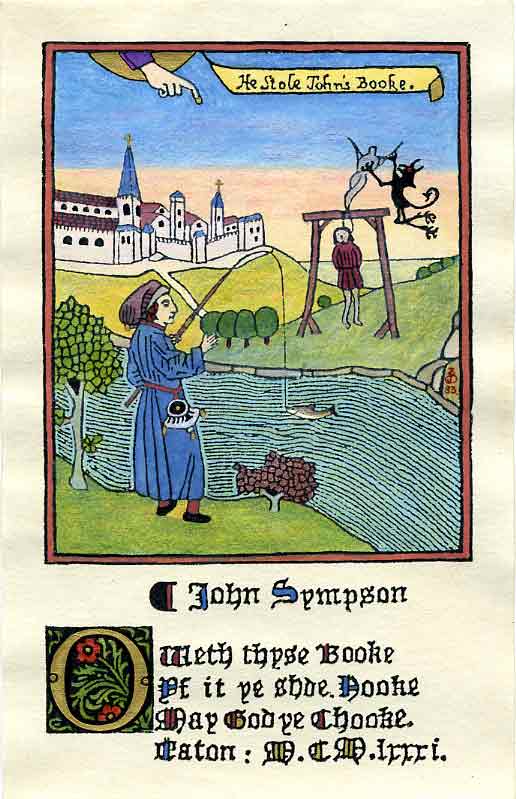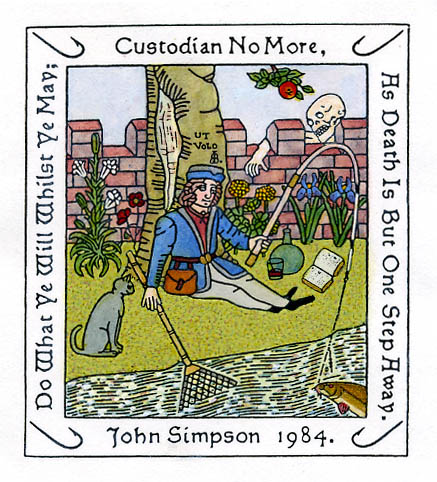 early bookplates, especially typographic labels, Early Armorials and Jacobean style bookplates. Results of the auction at Bonhams, New Bond Street on 17 May 2005 are at www.bonhams.com and were included in the Society's June newsletter. Some 23,000 bookplates sold for £63,000. An offprint of the catalogue was circulated to members, and further copies are available for purchase by non-members Click here. John Simpson produced these two bookplates for himself, and they are discussed in our Autumn 2012 journal. From time to time the Society has a few prints available, at £6 each (post free to UK).