This part of our site is primarily for the benefit of members and may one day become a password-protected area. We considered making the Directory of Members available online, so that it would be up to date, but many members do not have access to the internet.
A Members Handbook updated to January 2016 was issued to members with our Autumn 2015 journal.

MEMBERS AUCTIONS
Our next members auction, number 82, takes place in September 2017. Our most recent auction took place on 8 April 2017. The results are available at Auction 81 Results (PDF document). New auction rules were given at the start of the listing for that auction, which remains available at Auction 81 (PDF document).

Images of the lots in Auction 81 remain available to be viewed by clicking on the links below.

Lots 1-18 Lots 19-30 Lots 31-39 Lots 40-49 Lots 50-60 Lots 61-66
Lots 67-69 Lots 70-77 Lots 78-84 Lots 85-86 Lots 87-89 Lots 90-91
Lot 92 Lots 93-94 Lots 95-112 Lots 113-117 Lots 118-135 Lots 136-149
Lots 150-156 Lots 157-165 Lots 166-170 Lots 171-176 Lots 177-185

You can still view the list for Auction 80 (PDF document) which took place on 10 December 2016. together with the Results for Auction 80. Images of the lots in Auction 80 can, for the time being, be seen by clicking on the links below.

Lots 1-15 Lots 16-21 Lots 22-26 Lots 27-32 Lots 33-41 Lots 42-46
Lots 47-52 Lots 53-71 Lots 72-84 Lots 85-97 Lots 98-104 Lots 105-114
Lots 115-123 Lots 124-139 Lots 140-150 Lots 151-165 Lots 166-177 Lots 178-183
Lots 184-200

Our Auctions Secretary is Peter McGowan, to whom all auction correspondence should please be sent (address on Contacts page).
THE JOHN SIMPSON COLLECTION
A former member who died tragically in 2004, John Simpson was an assiduous collector not only of books on fishing but also of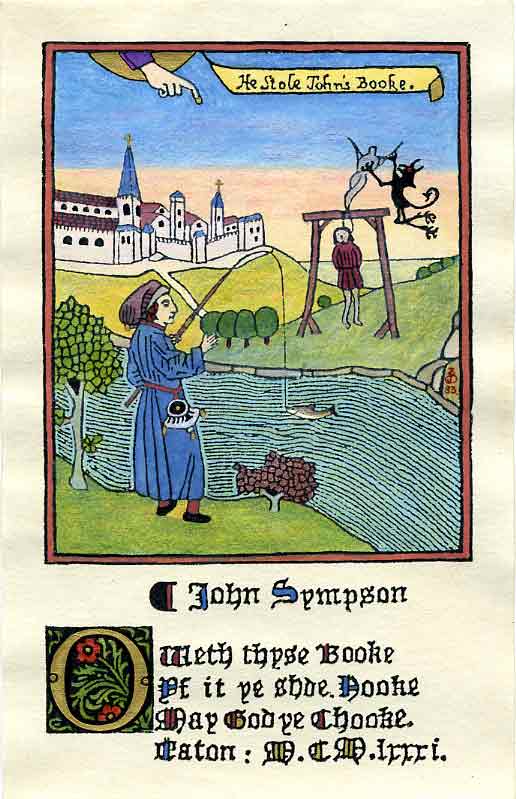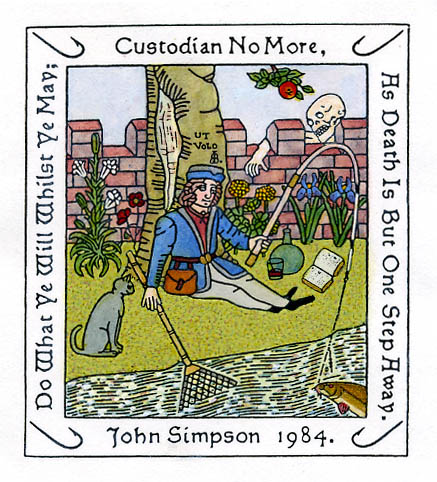 early bookplates, especially typographic labels, Early Armorials and Jacobean style bookplates. Results of the auction at Bonhams, New Bond Street on 17 May 2005 are at www.bonhams.com and were included in the Society's June newsletter. Some 23,000 bookplates sold for £63,000. An offprint of the catalogue was circulated to members, and further copies are available for purchase by non-members Click here. John Simpson produced these two bookplates for himself, and they are discussed in our Autumn 2012 journal. The Society has possibly a few prints still available, at £6 each (post free to UK).