This part of our site is primarily for the benefit of members and may one day become a password-protected area. We considered making the Directory of Members available online, so that it would be up to date, but many members do not have access to the internet.
A Members Handbook dated January 2016 was sent to members with our Autumn 2015 journal.

MEMBERS AUCTIONS

Covid-19 is far from being eliminated but, at long last, we were able to hold an auction meeting in person on 7 May 2022. The auction list and instructions can still be viewed at Auction 95 List (PDF) and you can find the results and a list of unsold items remaining available for sale at CLICK HERE (PDF).

Links to the images are shown below. When viewing these images by computer, you may find it useful to hold down the Control key and at the same time press on the equals key to enlarge. To reduce, hold down the Control key and tap on the hyphen key. On a mousepad enlarge by drawing two fingers away from each other.

Lots 1-32 Lots 33-64 Lots 65-73 Lots 74-81 Lots 82-89
Lots 90-100 Lots 101-110 Lots 111-115 Lots 116-118 Lots 119-126
Lots 127-136 Lots 137-143 Lots144-150 Lots 151-156 Lots 157-164
Lots 165-173 Lots 174-180 Lots 181-188 Lots 189-199 Lots 200-208
Lots 209-213 Lots 214-224 Lots 225-246 Lots 247-255 Lots 256-260
Lots 261-264 Lots 265-269 Lots 270-285 Lots 286-295 Lots 296-318

Our Auctions Secretary is Peter McGowan, to whom all auction correspondence should please be sent (address on Contacts page).
DESIDERATA
We have opened a webpage giving a list of Wants by members. To get to this, go to the URL box at the top of this page and type Desiderata.htm in place of membersarea.htm
THE JOHN SIMPSON COLLECTION
A former member who died tragically in 2004, John Simpson was an assiduous collector not only of books on fishing but also of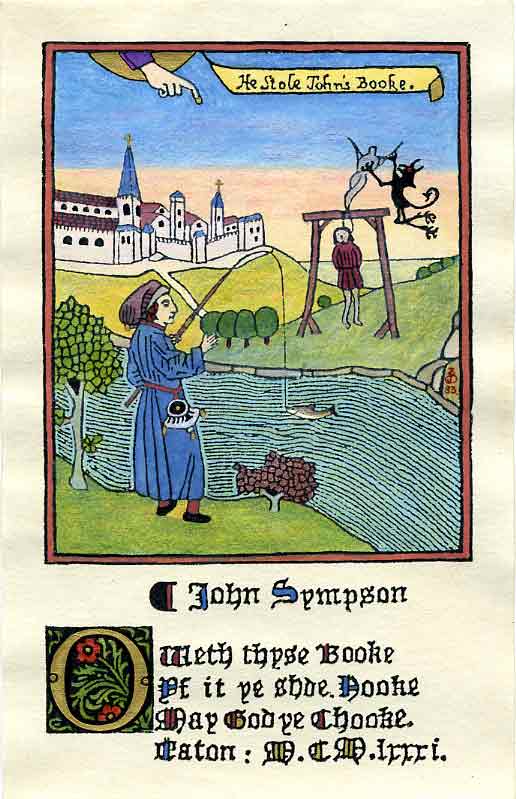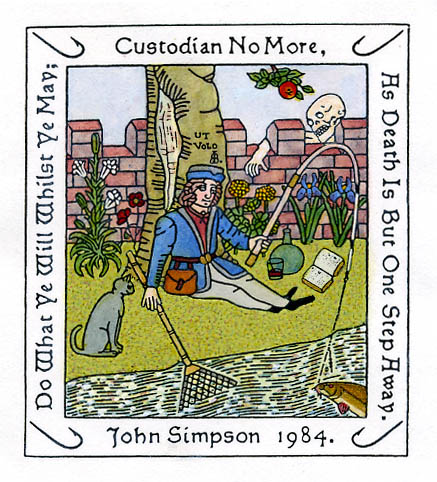 early bookplates, especially typographic labels, Early Armorials and Jacobean style bookplates. Results of the auction at Bonhams, New Bond Street on 17 May 2005 are at www.bonhams.com and were included in the Society's June newsletter. Some 23,000 bookplates sold for £63,000. An offprint of the catalogue was circulated to members, and further copies are available for purchase by non-members Click here. John Simpson produced these two bookplates for himself, and they are discussed in our Autumn 2012 journal. From time to time the Society has a few prints available, at £6 each (post free to UK).