International Exlibris Congress 2020
The Bookplate Society is pleased to host visitors to Cambridge in August 2020
When coming to the UK, many congress participants will probably use this opportunity to visit London and the rest of the UK either before or after the congress, so this page explains how to get between Cambridge and London. Worthwhile savings on travel fares can be made by booking online in advance for fixed times. A second online form (you will complete this nearer the time of the congress) will ask about your travel arrangements.


By Train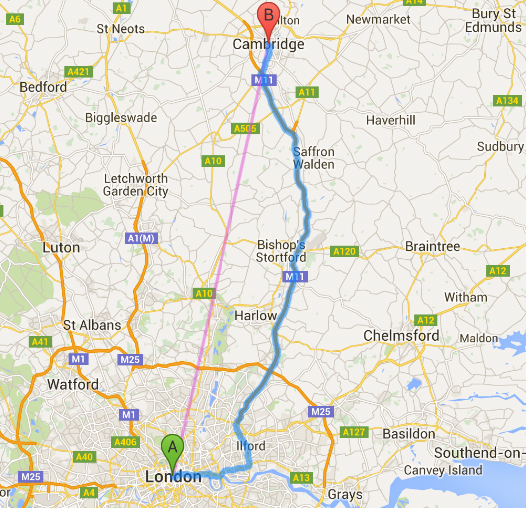 There are frequent trains from London's King's Cross station with a journey time of about an hour to cover the 60 miles (95km) to Cambridge rail station. Trains also run from London's Liverpool Street Station, taking 20 minutes longer but these can be cheaper and will sometimes be more convenient. Online bookings can be made at National Rail. The congress organisers will investigate whether it may be possible to arrange group bookings if a number of participants all travel together on the same train.
Click on this map.



By Car

Cambridge is 63 miles (100km) northeast of London via the M11 motorway. Ideally, it should take about 1hr 45min to drive, but this route out of London is amongst the most chaotic and traffic-bound. Unless you are staying in north London, it is preferable to travel by train or coach. The registration form asks if you are coming by car and whether you need parking. Cambridge is not car-friendly, so organisers will find the best parking arrangements for you.



By Bus

National Express operate coaches between London and Cambridge. Ticket prices depend upon how far in advance you buy your tickets. National Express now accept payment by PayPal so it's easy to book a bus ticket from anywhere in the world. The trip takes between 1hr 45min and 2hr 20min. Buses leave hourly between Victoria Coach Station, London and Cambridge City Center. Avoid early morning coaches and several journeys during the day that make a detour to Stansted, adding an hour to the travel time.




By a Special Coach Service for Congress Participants

If there is sufficient interest to make up a full coach, the organisers will consider arranging a special coach service that starts from Central London at 9.30am on the morning of Wednesday, 12 August 2020, travels for 25 miles (40km; this takes one hour) to St Albans where participants would visit Hatfield House. This home of the Marquess of Salisbury was completed in 1611 for Robert Cecil, 1st Earl of Salisbury and son of Lord Burghley, the chief minister of Elizabeth I. It is one of the great English houses that tourists should not miss. The house opens at 11am and there would be 2 hours to tour the house and an hour for coffee and sandwiches. After 2pm the coach would continue on for 50 miles (80km, taking 75 minutes) to Churchill College, Cambridge.
CLICK HERE for the Hatfield House website. Tell us on the registration form if this interests you. You would pay for your share of the cost of the coach and for the Hatfield House group admission fee (costs in 2020 are not yet known).

On Sunday, 16 August 2020, we propose that after breakfast you return by coach to London, but with a visit to Burleigh House in Stamford. See the visits page for fuller details. Like the visit to Hatfield, you would pay your share of the cost of the coach and for admission to Burleigh House.