Regarding the logos shown on this and other pages, let us explain that our plan is to base this congress at Churchill College, where Sir Winston Churchill's archive is held, so the first logo (see above left) incorporates his hat and cigar. The rising cigar smoke turns into water underneath windows recalling the St John's College bridge. The zero of 2020 is formed of Churchill's hat, but also from the basic elements of another hat, a straw boater worn by a punter. The second logo, designed by Gordon Collett and entitled 'River Cam 2020' shows a punt with swans which cleverly form 2020 with their necks and wings.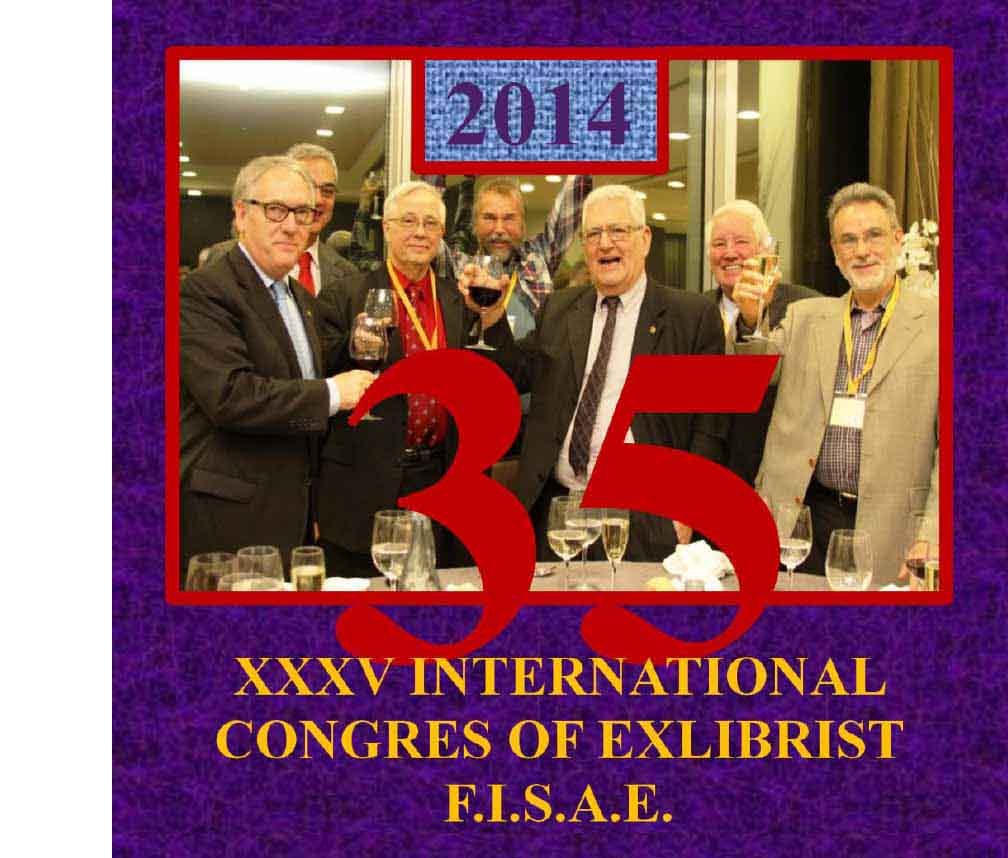 What happens at an exlibris congress? Who attends the event? Click on this image to view a report on the 35th Exlibris Congress held at Tarragona, Spain in 2014. There are lots of photos of the collectors and artists who attended, of the exhibition and the judges busy selecting which entries were worthy of awards, of the meetings, of newspaper coverage, and of Tarragona. FISAE delegates raised concerns about Russian controls on the free movement of exlibris and asked for a Code of Good Practice and General Conditions for the commissioning of exlibris to be discussed further at their 2016 meeting.


The 36th Exlibris Congress took place at Vologda, north of Moscow, in August 2016, with over 80 participants from China. We do not yet have images to show you, but here are the
Minutes of the FISAE Delegates Meeting.




From Tuesday 28 August to Sunday 2 September 2018, in the centenary year of its birth, the Czech Exlibris Society (Spolek Sberatelu a Pratel Exlibris - SSPE) held the 37th International Exlibris Congress in Prague, based at the Hotel Pyramida, close to the historic city centre of Prague. The President of FISAE leading this congress was Karel Urban.

Prague is a wonderful city to visit. Visit these pages for

Reports on the Prague 2018 Congress.



For 2020, here is an informative video in 3 parts. The lady is rather serious, and her clothes are not modern, but just ignore this and enjoy her interesting tour of the sights of Cambridge.
If English is not your first language, it is still worth watching the pictures.
Click on each image below to see the 3 separate parts. These run for 9, 13 and 6 minutes.
Enable sound, then position your cursor at the bottom of the video to adjust sound if needed and open the video to full screen.
YouTube has many more videos of Cambridge, but of variable quality.